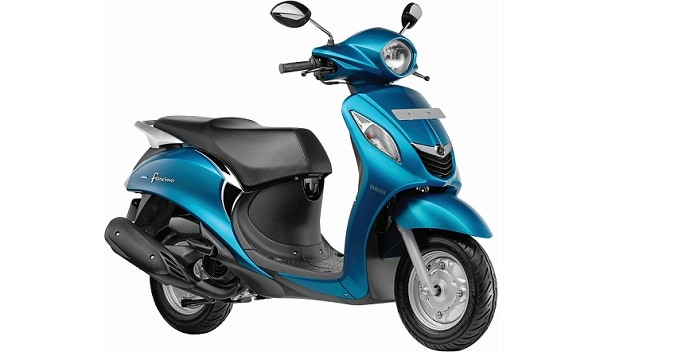 Yamaha India, yesterday, launched an all new scooter in the Indian market - the Fascino - at
R

s.
52,500 (Ex-showroom, Delhi). Based a "rich and classy modern-retro" design, the new scooter targets Indian youth that, today, represents more than 50% of the Indian population., says the company.
Powering the new scooter is a an air-cooled, 4-stroke 113cc engine coupled with a continuous variable transmission (CVT). This engine churns out 7bhp and 8.1Nm. The vehicle is claimed to be the most fuel efficient scooter in its league, thanks to its light weight (103kg) and Yamaha's "Blue Core" technology. The company claims the scooter to return an impressive 66km/l.
The new scooter has been made available in a total of 5 colours - Rouge Red, Haute White, Sassy Cyan, Cool Cobalt and Tuxedo Black.
Commenting on the occasion, Mr. Masaki Asano, Managing Director, Yamaha Motor India Sales Pvt. Ltd. said, "We as a youthful brand wanted to present them (Youth) with a product that could fascinate them and Fascino, we believe, will certainly be able to do the job well."
Mr. Roy Kurian, VP-Sales & Marketing, Yamaha Motor India Sales Pvt. Ltd. added, "India has the world's largest two-wheeler market with a total annual demand of approximately 16 million units (2014). Out of the total demand, the scooter segment constitutes 27% of the market, and is growing further year by year. Since 2012, Yamaha Motor has been introducing a range of scooters - including RAY, RAY Z and Alpha - and has been increasing its customer base in the Indian market. The new Fascino is intended to further expand sales in the scooter category, which is expected to grow further, especially among the youth who have a keen interest in current fashion and trends."